Foodservice industry figures from the NPD Group show Londoners visit fast food outlets and other chains to buy a take-out lunch more frequently than people in the rest of Britain.
London comprises 13% of the population of Great Britain but has a 17% share of Britain's 'lunch-to-go' traffic and 18% of Britain's 'lunch-to-go' spend. But Londoners pay 24% more than the rest of Britain when buying lunch-to-go.
Fast growth for lunch in London 
When it comes to buying food at QSR restaurants – meaning Britain's wide variety of fast food chains, independent takeaways as well as sandwich, bakery and coffee outlets, and leading supermarkets and other retailers – London is significantly outgrowing the rest of Britain, said researchers. For all dayparts – breakfast, lunch, dinner and snacks throughout the day – London's traffic is up 13.8% YE August 2014 vs YE August 2009. This compares to the much lower growth of 2.3% for the rest of Britain over the same period. London lunches purchased from the QSR channel recorded traffic growth over the same period of 17.1% vs just 4.4% for the rest of Britain.
The percentage of London lunch visits that are to go – meaning the food is taken out of the premises for consumption – is almost the same as the rest of Britain (65% vs 64%). But there's a marked difference in cost with the average lunch-to-go purchase from a fast food outlet costing £3.53 in London, some 24% higher than the £2.84 average for the rest of Britain – even when people are purchasing the same number of items, said NPD Group.
"There are distinct characteristics regarding the lunch occasion in London," said Cyril Lavenant, NPD Group director of foodservice UK, who presented findings today at Lunch! – The Contemporary Food to Go Show at the Business Design Centre in London. "Lunch purchased through the fast food channel in London has increased far faster than in the rest of Britain. And for the lunch-to-go segment within that, Londoners generate a much higher level of the traffic relative to the population size of the capital."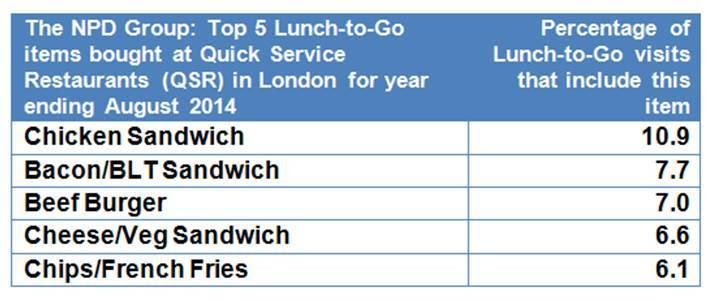 Where do Londoners eat their lunch-to-go? 
NPD Group data shows that 52% of Londoners take this to their office to eat (versus 38% for the rest of Britain).  And only 15% of Londoners would eat their lunch-to-go purchase outside – typically in a park or perhaps in the street – versus 20% for the rest of Britain.
London is a boomtown for independents

London is a boomtown for independent food outlets selling lunch-to-go, found researchers. Outside London, branded fast food outlets and leading sandwich, bakery and coffee chains are stealing traffic from the independents. For YE August 2014, traffic share for independents outside London was down seven percentage points at 27% with branded outlets enjoying the remaining 73%. But in London, it's the reverse with independent outlets enjoying an increase in lunch-to-go traffic of six percentage points for YE August 2014, giving them a total of 21% traffic share.
"It's fascinating to see how independents are taking 'lunch-to-go' traffic share from the branded outlets in London," said Lavenant. "Throughout the rest of Britain it's the reverse trend so London's independents have clearly developed a successful offering. One possible reason the capital's independents are doing well is that London is often the city where all kinds of new ventures are tested before they are rolled out to the national market."
Londoners have different motivations too when it comes to lunch-to-go. A total of 24.4% in the capital cite 'quality of food' as a factor in choosing an outlet, against a lower level 21.7% for the rest of Britain.